How do I add a new form type on the Teaching and Learning Development module?
To add a new form type you need to do the following:
On the top menu bar, click 'Administration' > 'Teaching and Learning Admin' > 'Form Types'. Click 'Add New Form Type' on the bottom of the table. Give your new form type a name and then you have a few choices to make.
Grid Layout? → Select this and your form type will appear more compact, as in the screenshot below.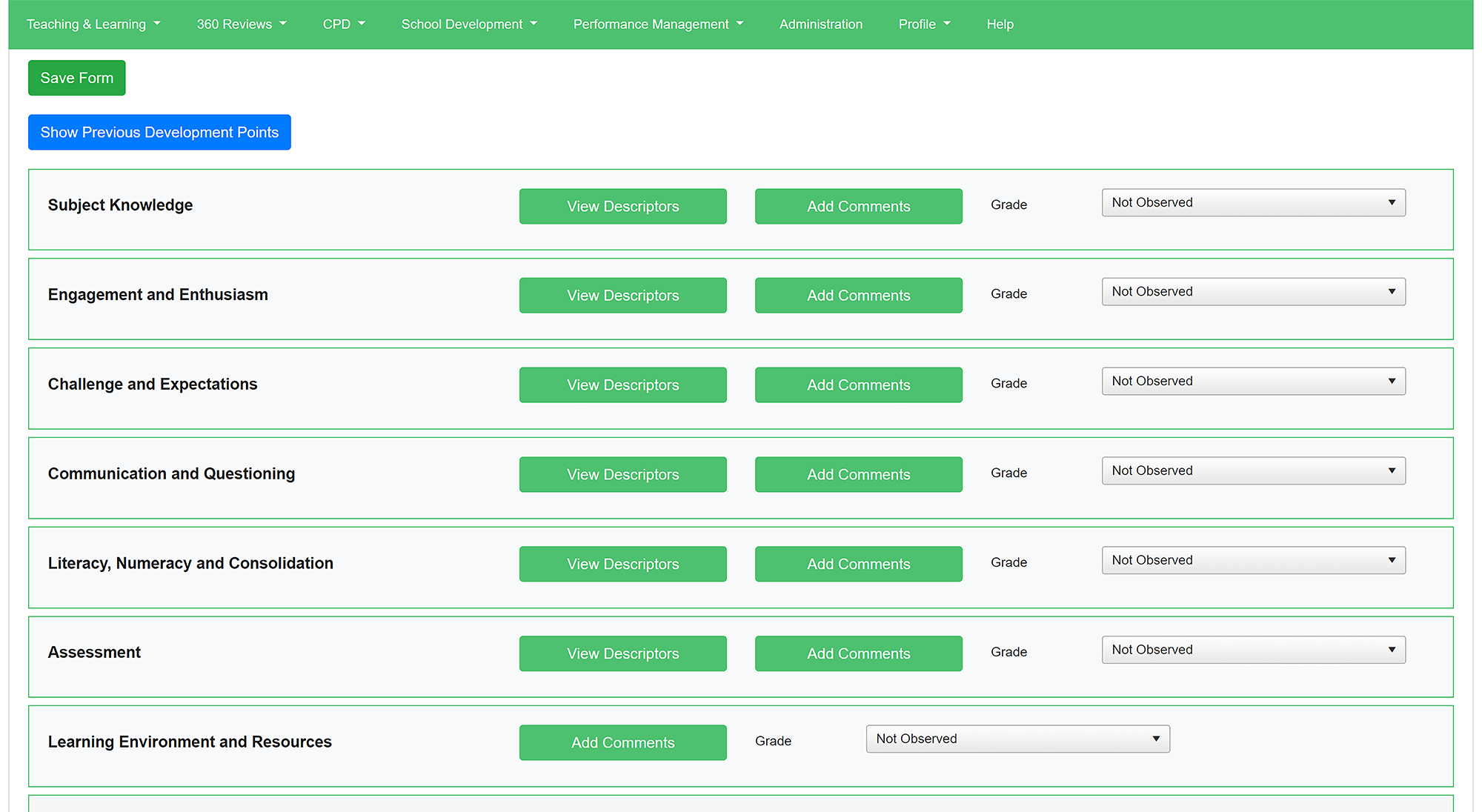 Show Quick Navigation Menu? → Fixes a navigation bar to the bottom of the screen which can be used to jump between aspects.
Visibility
Include in Statistics → Select this and your results for this form type will pull through to the dashboards when you first go to look at them. If you do not select this option you will still be able to view your results on the dashboard but you will have to use the filters at the top to see them.
Keep Confidential → Only select if you want the form to be visible to just the observer and the observed person. This is useful for things like private peer reviews, but unnecessary for most form types so long as you have your roles set up properly.
Show in X Dashboard → Allows you to decide which dashboards that particular form type appears in.
Staff Roles Linked to This Form Type → Allows you to decide which staff this particular form type shows as an option for.
Grades/Judgements
This is where you select the grade set that you'll use on this form. If you don't want to use grades, tick 'Aspects Not Graded' and 'Hide Overall Grade From Form'.
Text for 'Not Graded' Option → Whatever you put here shows in your dropdown list as an option to select when you decide not to grade in that particular situation.
Show Grades in Radio Button List → Displays all grades on the page rather than in a dropdown list.
Hide Grades from X → Hides any grades given on that form type from either individual staff, subject leaders or year group leaders, depending on your selection. The grades will not be visible on the form itself or anywhere else on the system. This might be an option you wish to use if you would like senior leaders to see grades but would prefer teaching staff to focus on development points and/or strengths.
Hide Form Elements
This section allows you to hide elements on your form type, such as the aspect summary or box for capturing staff comments.
Rename Form Elements
This section allows you to rename elements on your form type, such as the label that appears next to the overall grade dropdown list.
Click 'Save'.